Every experienced interior design firm has a different voice and personality. View our list of preferred designers and see what style speaks most to you.
Carey Mudford Interior Design's creative objective is fresh design with a focus on timeless style, cleanliness of line and optimum functionality. They strive to tailor the ultimate beauty and function into every client's personal residence. CMID is a high-end design group whose primary clientele are homeowners of luxury residences. With an eye for detail, they are the ideal designer for any up-scale renovation.
Interior designers can help you get the most out of your interior space. Good design can add value to your home, increase your bottom line, draw customers into your store and promote health and well-being. Searching online for an interior designer can be daunting. How can you tell if the design firm you want to hire is reputable? How do you know if the firm follows professional standards of practice? The truth is, you don't. IDC can help. Interior Designers of Canada (IDC) is Canada's national association for the interior design profession.
From complete home renovations to small scale decorating projects, Timothy Johnson Design offers clients uncompromising style and functionality down to the smallest detail. At Timothy Johnson Design, we believe that working with an experienced design team should be fun and exciting. We love it when you're enthusiastic about your dreams because we pride ourselves on listening and helping you get everything you want out of your renovation, design or decorating project.
With over 10 years in business, Platinum Desk has gathered a remarkable database of vendors and service providers worldwide and has developed a loyal and amazing working relationship with them that helps to ensure we can flawlessly fulfill every request you have no matter how small or large. Determined to create a memorable and unmatched experience for clients is what Allister Reid founder of Platinum Desk – your complete Concierge Service is determined to achieve. His passion is perfection and his team of innovative and dedicated concierges with their vast resources will handle every request no matter how large or small with personalized attention to every detail and it is Allister's outgoing personality along with his sharp eye for detail that has helped him win over the hearts of many clients.
Laura Stein Interiors is an award-winning firm based in Toronto dedicated to creating exceptional, distinctive and uniquely personal interiors for your home. More than just a reflection of your personality, we believe your home should inspire you, pamper you, provide comfort and enrich your daily experience of living. We focus on creating fresh, lifestyle-based designs infused with comfort and understated luxury. Based in Toronto, our boutique-style firm works with discerning clients who appreciate creativity, custom design and excellent quality. Our team of highly skilled contractors, workrooms and artisans ensure our designs are executed to the highest standards. Please browse our site or contact us directly to learn more about what we do and how we can help transform your home.
As principal of Kate Dickson Design, Kate brings over 10 years of design, marketing and project management experience to the firm. She mastered the core fundamentals of design at George Brown College, where she obtained her Interior Decorating Certificate. Previously, she worked as a marketer and project manager for several high-profile corporations. That unique collection of expertise – design, marketing and project management – makes Kate Dickson Design a truly full-service firm. Bottom lines are handled as adeptly as design lines. Her portfolio includes a number of residential projects in Toronto and across the GTA. Kate is a member of the Canadian Decorators Association (CDECA).
Fia & Company is a boutique interior design and renovations firm with offices in mid-town Toronto. Founded in 2001 by Erika Floysvik, Fia & Company has built a reputation for being service and client-focused and for executing beautifully crafted designs. Projects of all sizes are treated with equal commitment and enthusiasm. Whether renovating a kitchen, bathroom or re-designing the footprint of a home, Erika and her team of Contractors will achieve your vision on-time and on-budget.
Recognized for her classic and eclectic style, Interior Designer Evelyn Eshun, a graduate from Ryerson University, has been involved with design over the past 15 years, collaborating with clients on their residential projects. As well as being a regular contributor to various publications and Television appearances, various projects and collaborations have given Evelyn a wide breadth of experience. Evelyn can proudly admit that each project successfully reflects the personality and lifestyle needs of each Client always striving for creative design solutions which are deeply rooted in classic design principles.
With over 25 years of industry experience, David Jenkins offers a range of services that will change any room in your home into a functional work of art. More than kitchens and bathrooms, David J. Design creates striking layouts for any room in your home, be it a mudroom, laundry room, library, family room or basement. With a little ingenuity and some great planning, these spaces will become both dynamic and beautiful. Your plans and budget are taken into account every step of the way – from concept to actualization.
Orsi Panos Interiors is a boutique interior design firm specializing in full-service design. Our projects have ranged from modernizing vintage Edwardian and Craftsman homes in Toronto's Beach neighbourhood to updating newer builds in Durham Region. We partner with homeowners, contractors, architects, builders while offering tailored design concepts, scaled drawing packages, dedicated project management services to achieve a highly polished outcome. We love an extensive whole house-reno that we can sink our teeth into, but also are passionate about designing kitchens and bathrooms. Tell us about your project and let's see how we can work together.
Established in 1992, Rowlands Associates specializes in the design and supervision of custom residential renovation and new construction projects. Lifestyle and functional requirements are carefully considered as the foundation of our design projects. From a bathroom or kitchen renovation to a new home or cottage from the ground up, each project is developed from start to finish in close collaboration with our clients. We offer a full range of design services including concept development, space planning, permit applications, architectural and interior design drawings, and the selection of materials, finishes, fixtures and furnishings.
The Alison Milne Gallery began as a showroom of great emerging local talent, alongside the studio of designer Alison Milne, who places an emphasis on fine art in her interiors. With this interdisciplinary approach, the showroom-cum-gallery has grown into a creative and welcoming space of art and design in its five-year history. The Alison Milne Gallery has since garnered a reputation for fresh, forward-thinking exhibitions of all contemporary media, including painting, drawing, photography, mixed media, installation and sculpture. The gallery aims to cultivate the careers of emerging local talent, as well as expose the work of mid-career artists from both Canada and abroad to a burgeoning Toronto art market.
Kate + Co. is a multi-disciplinary design firm offering interior design services for residential, corporate, retail, medical and educational spaces. Known for contemporary, sophisticated and livable interiors; Kate + Co. has a diverse portfolio of projects from private residences to gourmet bakeries, and large-scale corporate offices. We can oversee your project from initial concept and design, to project management, furnishings, and move in ready. Offering hourly design consultations to complete project management with a team of 4 designers and a reputable group of trades and suppliers.
Cynthia Soda is Owner, Principal Interior Designer of Soda Pop Design Inc., a multi-disciplinary interior design firm providing complete custom renovation and design services for residential and commercial clients throughout the GTA. Soda Pop Design Inc focuses on merging the client's lifestyle, personality and architecture to create customized liveable luxury.
Jacklynn Little Interiors is an interior design and renovation firm based in Toronto. Their team focuses on giving clients a smooth and client-focused experience all while giving them a beautifully designed and functional home that is unique to their personnel style. Clients appreciate the custom design and excellent quality that her highly skilled contractors and mill workers execute while focusing on the client's budget.
What can we help
you find?
Canada's most comprehensive lineup of hardware products
and solutions at your fingertips.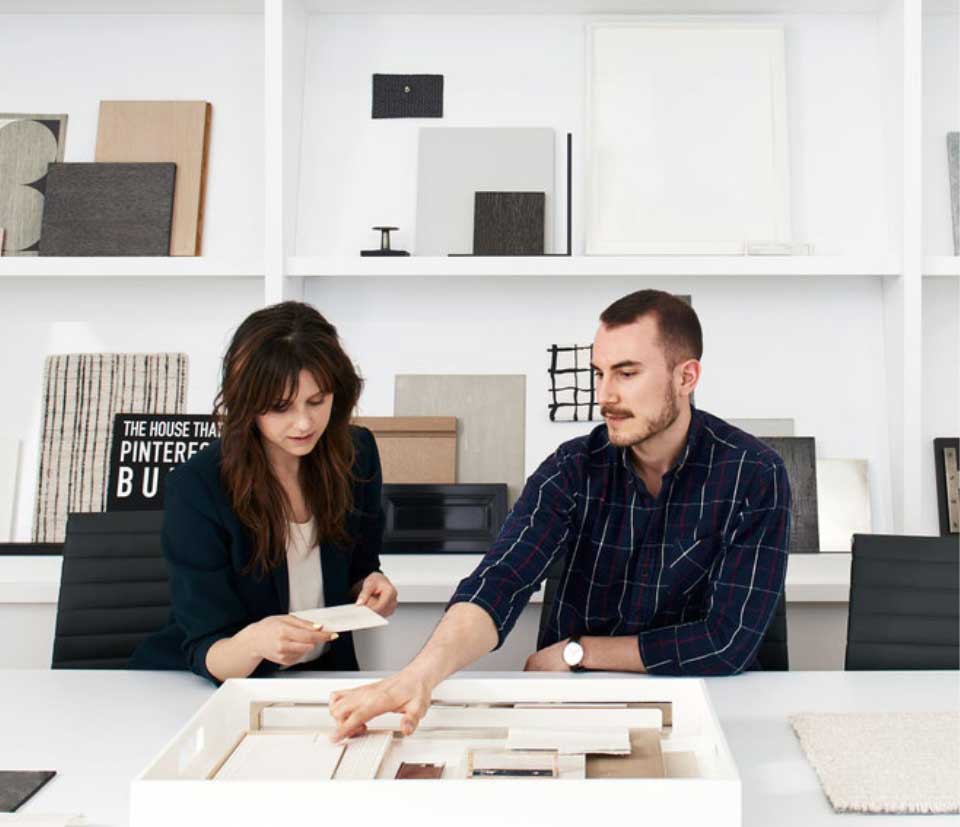 You're never alone. Consult with us on how we can bring your next project to life.